"Can you look at my relationship with this person?"  I think it has to be one of THE most common questions asked in my sessions.  So, I thought I'd explain a little about what I do when I look at the relationship between two people.  While in many cases, this is referencing a romantic relationship, I also look at friendships, family relationships, business partnerships, coworkers, etc.
The first thing I look at is the two souls at the same time.  I look to see what positions they are in.  Are they side-by-side?  Are they close to one another?  Or is one or both putting distance between the other?  Is one above one another or below?  What is the energy around each person?  Is there white light around one or both?  How the two souls are interacting gives me insight into what the current status is of the two people.  If the two souls are side-by-side, that tells me they are on an equal level, they are standing with each other or willing to be with each other.  If there is space between the two, that tells me that one is trying to put that space between them or is pulling away.  If they are not on the same level, then one person may be "lording over" the other or one person may feel inferior to the other.  The energy around each will give me insight into the person.  If there is white light around them both, it tells me it's a strong, powerful relationship with very good energy.  I use this aspect for both current status as well as what the future might bring.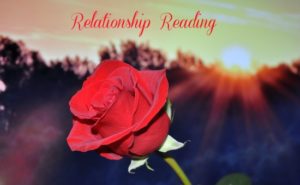 As a clairvoyant, I see and use symbology in a variety of ways in my sessions.  One of the things I do for relationships is put up a relationship rose.  In my mind's eye, I see a rose and ask to be shown the past and current status of the relationship.  I then ask about the future.  The health, age and actions of the rose will give me information on the relationship.  The rose may appear young and healthy as a rose bud.  It may look slightly open, or fully open and in beautiful mature bloom.  It may wilt slightly or it may even be dead.  It may alternate between different aspects from past to current to future.  This tells me what the relationship has been like, what it's like currently and what the future holds for the relationship.
I also may look at past lives with you and this person.  What were your roles then?  Were you in similar roles, opposite roles or have you even spent another lifetime with this person?  Were you the same genders or were you different?  If healing needs to take place in the past life in order to bring healing to this lifetime, I will do that.
In some cases, depending on the question, I may pull tarot or oracle cards to get more information about the relationship.  This may give me quick answers and helpful insight about the relationship and its' future.  I use tarot cards, The Lovers Oracle set and other oracle cards.
Sometimes I need to cut cords in a relationship.  Even if the relationship is one that you don't want to end, cutting cords can bring positive change if there has been any stress in the relationship.  Cutting cords is simply a way to stop negative energy drain.  It is ALWAYS about healing, whether for one person in the relationship or both.  For instance, my children are my everything, but there have been times when they were just emotionally and physically draining the heck out of me and I cut cords with them.  It allowed all of us to heal and decreased the stress level.  You may have someone from your past that you can't seem to move on from or someone currently that is draining you emotionally and physically.  These are all examples of relationships where I can look for cords and cut them if they present.
I also can clear karma and/or old energy between two or more people.  This brings a similar result as cutting cords.  It allows one or both parties in the relationship to heal and move forward.  Again, this applies to all types of relationships, not only romantic ones.
I am non-judgmental about ALL relationships.  We each have our own journey and just because yours is different from mine doesn't make it any less.  It's simply different.
If you've had me look at a relationship for you and you'd like to comment about your experience with it, please do so below.  While I can't answer relationship-specific questions here, (click here for info on a session) if you have a question about the readings themselves, please also post them below.  As always, thank you for reading this article and others on my website.
Save
Save
Save
Save