I throw the word around a lot in my work.  This "felt magical" or that "was magical."  But I recently discovered how to really, truly BE magic.  And I received completely unexpected and unsolicited confirmation about it from someone who had no idea what was going on and has never experienced anything like it.  She kept saying "I want to bottle it!"
Here's my and her experience.  I will start with a little back story that is important as a foundation.
I'm currently 47 years old and I was recently formally diagnosed with ADHD/ADD.  It appears in girls/women very differently sometimes, so I really didn't start connecting the ADHD dots until I had children of my own, one of whom is diagnosed with ADHD also.  It makes so much sense for me in so many aspects when I look back on my life and it is not uncommon for it to be in multiple generations.
I had an a-ha moment two days ago about the potential connection between people with ADHD/ADD and past/concurrent lives.  The thought originated with the understanding that a commonality for people with ADHD/ADD is their interest in multiple subjects/topics or even just jumping from job to job, relationship to relationship, etc. And while it causes depression, low self-esteem, and guilt in many of those people, I wondered if we were missing the gift in it.
This was after I had been feeling the energy building over this last week.  I knew something was coming but I didn't know what, and I didn't know when.  I had planned to write an article about the connection I made and actually started it.  But before I could finish it, I had a followup "lightning bolt" moment that resulted in my doing some soul work on myself to test my theory.  A theory that could affect anyone who has experienced multiple lifetimes or is concurrently living multiple dimensions, not just people with ADHD/ADD.
I did this soul work on the evening of Friday, May 26th, 2017.  I was home by myself and ended up being so tired that I was in bed before 10 p.m. which is very unheard for me on an evening that my sons are at their dads and I don't have to get up early for work.  I'm usually a night owl and like to stay up late.  Plus I had slept nine full hours the night before and was surprised I was so tired again.  But I just assumed I was integrating the work I had done and let myself honor the need for rest.  I really didn't know what to expect but I knew I had to try it on myself first before I could ethically try it on anyone else.  I didn't know if 1) there would be any results at all or 2) if there would be any challenging results I should be aware of.
I told no one that evening of my realization or the soul work I had done.  I slept for TEN hours and woke up feeling amazingly good!!!  That Saturday morning I did a Facebook post that said this:
"My major a-ha about ADHD and past/concurrent lives? Led to another even bigger a-ha! I did some relevant soul work on myself last night to test my theory. If it works like I suspect it will, I will be looking for a couple of "guinea pigs" to try it out on in a few days.  I think this may be way bigger than a blog post!"
I had a bunch of people raise their proverbial hand to be guinea pigs.  But not one of them was my friend Wendy.   In fact, I came to find out, she had not seen the post at all.  She knew nothing about what was going on.  But she clearly felt the affects.  She became my unintentional guinea pig.
Well, I felt SO happy and good on Saturday.  I had been contemplating a new comforter and sheets for my bed because my current bedding had a lot of white in it and with a tabby cat and a large black dog, it was getting dirty very quickly.  I had a dream Friday night that I needed bedding that had silver/gray, turquoise and white in it as these are my soul colors.  I got up that morning and knew I had to do some shopping.  One of the other things I was pushed intuitively to purchase was a soft, flexible notebook from a store I had been into a couple of days before.  I HAD to go get a journal/notebook.  I got that notebook (a pack of two, actually) and after visiting several stores, finally found a bedding set (on clearance, woohoo!) that had exactly what I was looking for.  My energetic vibration increased by the minute.  By the time I was ready for lunch at one of my favorite Thai food restaurants, I was literally shaking from my energy.  I grabbed one of the notebooks from the store bag and went into the restaurant.
I sat down just after 1 p.m. and started writing whatever was coming to me.  Some of it made sense and some of it didn't.  I would see certain images in my mind's eye and then have to figure out the words to describe what I was seeing.  Some of it was just coming to me as the words themselves.  By the end of my meal, I had written what I knew was happening to me.  I got the very clear message of what was going on and what it meant not only for me, but for lots of others.  But again, I decided to just keep it to myself.  Although at one point, I did consider texting my friend Wendy to tell her what was going on, I decided that as high I was "vibrating," it might be better not to.  I went home and was zipping around my house like a supercharged jumping bean.  I was hanging art on the walls that I had bought while shopping, got my new bedding in the washing machine, wiped down and brought in a piece of furniture from the garage that I wanted in the front room of my house.  While I'm rarely not doing something, it was like someone had pushed the "warp speed" button on me.
But despite feeling like that, I laid down just before 3.  I kept thinking, "How am I going to sleep when I'm going 100 mph?"  But after writing one last note that I needed to remember in my phone, I was instantly asleep and slept HARD for about 90 minutes.  And I woke up feeling just as good as I had when I went to sleep.  Still very high energy and literally vibrating because of it.  My sons came home from their dad's house, and we hung out at home a bit before heading across the street to a neighbor's house for an impromptu neighborhood pool party.  Even after my boys came home and went to bed, I still was hanging out with the neighbors.  Finally though, about 12:45 a.m., I decided to come home for the evening.  I was feeling a little down about something but when I got home, I thought, "Nope, not going to do it.  I'll just reconnect with that magical energy from earlier."  And as soon as I said it, I felt it wash back over me.
I sat down on my bed to pull my cards for the next day (I pull cards for myself every evening that are separate from the daily cards I pull for my website and email list.) I hadn't been home about 5 minutes when I got an unexpected text from my friend Wendy.  Now, keep in mind, this was almost 1 a.m.!  We rarely, if ever, text at this time.  She said, "Why are you stirring so late?"  I racked my brain trying to figure out how she knew I was still awake.  I hadn't posted anything on Facebook.  Oh well, she's occasionally "felt" me before and I just figured that that's all it was.  We chatted a bit and then she said, "Just checking on you.  I've been pulling towards you today.  Wanted to say hi."  I responded with, "Intense energetic day.  Lots of good stuff came through today."  She said, "Good.  You've been radiating out.  I wanted to check in earlier.  Love that you've had a good day."
This was only the beginning of what was to come.
I told her that I had been vibrating on a crazy level.  I had become dizzy a couple of times during the day and mentioned the shaking also.  She said, "Yeah, I've been tired today as a result.  Stop this.  LOL."  I told her how much I had slept the night before and that I had taken a nap too.  She responded with, "Me too!!!  Same exact thing!  Ten hours AND a nap!"  We both start saying "Wow" and she's jokingly telling me to cut it out because she has stuff to do.  I told her I had considered texting her that afternoon but had decided against it because I was vibrating so high. She says, "I'm happy buzzy when awake.  And I'm not full of any negative.  So, you are good buzzing back and forth to me.  I feel like internally I'm in a pong game."  Then came the first time she said, "It's awesome, awesome.  I would bottle this up."
She said, "It's a buzz.  It's the only way to describe it."  I told her only a handful of people had ever tuned into me in this way and she said, "Can you cut it out?  I need to go to sleep.  LOL"  Then, "Because right now, I might as well write presidential press releases I am so wired."
I told her that I had channeled some things that I wrote down in a notebook and that I would send them to her.  I told her that the last thing I wrote was "Vibrate at the level of magic" and that's what she was feeling from me.  She said, "Yes, that's it exactly.  I know it with all I am.  This buzz is f-ing crazy!"
I said, "I guess someone else had to feel it to give me confirmation.  So I wouldn't doubt what I had experienced."
She responded with, "This is what I think it would feel like if I used cocaine."  And I responded with, "And no drugs were taken by either of us.  LOL."
THEN she said, "I ALMOST sent you a message at 1:30 today saying, 'Hey sista, ease your roll. Hahahahaha.'"  And that's when I told her that that's EXACTLY when I was channeling all that stuff into the notebook!  I mean, she had NO idea any of this was going on.  And then we discovered we had napped at almost the exact same time too.  She laid down and woke up shortly before me but was groggy until the time I woke up!!!
We chatted a bit more about it and the potential ramifications if I could help to activate this in many people.  She said again she wanted to bottle it up because she didn't want to lose it and I told her I had been able to reconnect to it easily.
She then said, "I will say this buzz makes me want to change the world….fly to windows like Tinker Bell."  I told her she had NAILED exactly what I had been feeling.
I then sent her the pictures of what I had written in my notebook.  She said she would read them in the morning as she needed to get to bed.  She was saying she felt the buzz in her chest and I told her she was feeling the integration of the energy.  "Hahahaha, I don't even know what that means, but I LOVE it," is how she responded.  Then she tells me she's been crazy sleepy the last few days and sleeping a ton.  She asked if it was normal.  For the millionth time, my mouth fell open.  I said, "Yes, that's what I've been doing too!"  I said we "were gearing up for the change."  She said, "Well, I'm in!" I said, "I don't think you had a choice.  LOL.  But you must have been ready."  She responded with, "Yes, I think so.  Love you Jules.  Let's do this!"
Then she remembered something else.  She said, "I wrote this on my wall in January and I didn't know why.  I had no reason at all and I couldn't explain it to G (first initial of her 10 year old daughter) as to what it meant."  Like me, she and her daughter pick a "Word of the Year" to guide them.  She had written, "I'm In This" under her word of the year and had no idea why!!
Well, seeing that picture just covered me in chills!  She wrote it in JANUARY!  At that point, we bid each other a good night and went to sleep.
Here are the notebook pages that I sent her.



 You can read it in PDF format Transcription of Channeled Messages if you're having difficulty with the handwritten images.
When I woke up Sunday morning, I had received another text from her.  She had read my notebook pages upon waking and said, "This that you wrote, that I just NOW read, gives me chills."  I told her it had just poured out of me.  I again remarked on what might be coming if this was just the beginning.
And then she says, "You know what else is probably not a coincidence?  I've been painting like crazy this past week.  As in, I can't wait to get home to my canvas.  I haven't felt this way about painting in forever."  She sent me the picture of the dog and said, "I painted this in one day."  Then sent me the picture of the elephant and said she had sketched it out the night before and was going to be working on it today (Sunday.)
I was FLOORED.  I had no idea what the art stuff meant when I wrote it down.  But it was meant for HER.  She said it had lots of meaning for her.  She then said, "Your writing was a 'spilling out.'  It's the only way I can describe it."  And as you can see in my notebook pages, that's what I had written.  I told her, "That's exactly what I wrote too.  I could see the imagery of this energy just cascading out.  Spilling out is a great description too.  It was overflowing, like lava pouring out from a volcano!"  At the same time, she was writing, "It's like a gushing."  We were describing the same thing at the same time.

Both of us were once again feeling the high energy.  She described herself as "buzzing around like a crazy person."  I told her that I had to write a full article about all of this as it was way too much for a Facebook post.  I asked her if she wanted me to use a fake name or her real name.  She said, "Why are you even asking this?  Real, goofball!"  I told her that not everyone wanted me to use real names when I shared my stories.  She then said, "Isn't that what this is sort of about?!  A clarity."
And I said back to her what she had told me about the night before, "I'm in this!"  She said, "Yes, I'm in this.  How crazy is that?" Then she says, "I wrote that when I was writing our words on our wall.  I didn't know what it meant, but I knew it had to be there. Hold on, I'll show you the full wall."
And she sent me this picture.
She said, "G and I have subset words.  My other word is 'patience,' and 'maturity' is hers." I told her it was gorgeous and I loved it.  Then she pulled the rug out from under me one more time when she said, "Yeah, it's our wall by our front door.  The mirror is to affirm ourselves and our words every day before we leave,

a magic mirror

if you will…..and we call it that."
Pause….
"Now that's some crazy shit right there."  Her words but my thoughts exactly.
So, like you probably are, I wondered, "So, was it exclusive to me because of what I do for a living, or because of how much work I have done on myself over the years, or any other number of reasons it might just be me?  Will she feel MORE even though she felt some of the change in me?
On Monday morning, May 29th, 2017, I texted Wendy again and said, "I want to do for you, what I did for me."  And I asked her to give me some information about herself that I felt was necessary when I did this soul technique on myself.  It took some time for her to pull it all together and then Monday evening, I did the technique for her.  She repeated that she was feeling "buzzy" again and after that I left her alone for the evening.  Tuesday morning, around 9:20 a.m., I couldn't stand it any longer and I texted her, "How are you?" Following are our actual texts: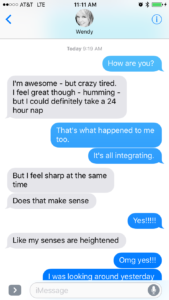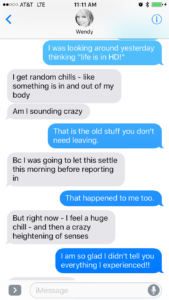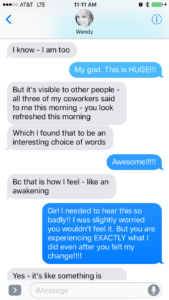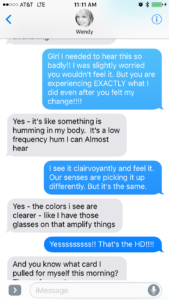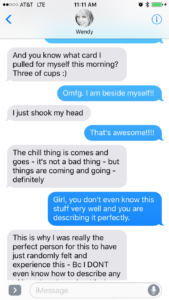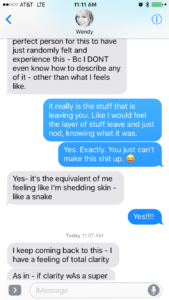 Magic is real….. with no knowledge of anything I had learned or the soul work I had done on myself, the changes in my shift to a "vibration of magic" had radiated out to her because she was open and ready for it.  And because I needed the confirmation that what I was experiencing was real.  THEN she experienced the full thing for herself when I did the Technique for her.
I know you're wondering just WHAT I did.  And while I usually freely share everything I do, I am being guided to not share the specific details at this time.  But I want to do it for YOU and I think it can and will make a difference for those with ADHD and many, many more.  I think it can impact anyone who has lived multiple lifetimes/is living in multiple dimensions.  After working for many years on souls in a variety of ways, I think this is a culmination of many of my experiences and also a remarkable reward in a heretofore challenging life journey.  The challenges had to be something I experienced in order for me to come to this realization, but oh what a reward I think this will be!!
Head on over to The Vibration of Magic page to get yours scheduled.
Save
Save
Save
Save
Save
Save
Save
Save
Save
Save
Save
Save
Save
Save
Save
Save
Save
Save
Save
Save
Save