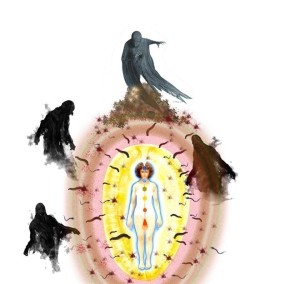 Do you suspect that you may have a negative entity attached to you, your children or your house/home and/or land?  This may appear in any number of ways:
Sudden onset of debilitating medical condition
Strong negative energy in your home or on your land that does not respond to traditional clearing methods
Sudden mood swings or long-term mood swings
House is "haunted" or certain areas of your house give you or others the creeps (and they do not respond to traditional clearing methods)
Children are afraid and report seeing "bad guys" that do not respond to other clearing methods
Fearful or negative emotions that are not your own
Spots of cold in your house
Been told or feel like you've been cursed due to multiple challenges
One of my very first energy healing clients was a boy who lived in Ireland. Because of my connection to the autism community, an acquaintance connected me with his mother. He was around 7 or 8 and was autistic. He did use some language and was very active. When I was connected to his mother, her son was in the hospital in excruciating pain. He wasn't walking, nor was he talking anymore and the doctors had tested him for everything they could think of with no answers to the cause of his suffering. He had been in the hospital for at least a week. I began to send him healing. In the 2nd session I did with him, I saw a very dark negative entity attached to him. I knew it wasn't supposed to be there so using the light of the Universe and the angels, I sent it into the Light and away from the boy. I continued to work on him a few more times. The last time I spoke to his mom, we decided to Skype. He was in the background, jumping up and down on the couch and some of his language had returned. Nothing else had changed except my negative entity clearing.
Dark entities can wreak havoc on a person and a house. Please read more in my article: How to Know if You Have an Attachment/Been Psychically Attacked.
What is interesting to many is that I do not have to be physically present to do the clearing. I conduct 99% of my house, land, and space clearings and aura clearings from my home or what is known as "long-distance." If you really want me to travel to you, I am happy to do so. There will be additional charges for time and travel.
Many times, entities and spirits that have not crossed into the Light remain in our dimension and have to be convinced that it is OK to cross into the Light.  Or in some cases, have to be banished. Other times, it can be the energy of a person or persons living in the home that may be causing the anomalies.  And still others, it can be an entity that is attached to the land or simply anger, resentment or bitterness directed at a person or family by someone else.  Julie will evaluate the situation and clear what is necessary in order to bring peace to the people, the home and the land.
This type of "exorcism" of houses and people has become a specialty of mine. I don't hesitate to go into the energy of the home, space, or person's aura and clear anything that doesn't belong. I'm not scared of the entities and that's why I am able to clear them in one session.
TESTIMONIALS
"I have been following Julie on Facebook. I love her daily cards. I feel like they start my day out right every morning. I had a Year Preview reading in Jan. We finished early so I asked about my children. She said my oldest son had a dark entity attached to him. So we did 3 sessions with her. The very first session and my whole house breathed. I swear I heard it sigh. Not only did my son feel better, he is functioning on a higher level. (He has Autism.) The most shocking change has been my other children. I had no idea how bad this entity was dragging our whole family down. Our mostly nonverbal daughter started talking. The day after his first session she said "Hi Mom". I about cried right on the spot. I have waited 13 years to hear those words from my daughter. My younger son is no longer scared to sleep in his room. 
Our family was able to go out this weekend and didn't have to leave because of my oldest son. We had fun for the first time ever. I know my son has a long way to go but the changes in him are life changing for our family.
Thank you Julie for changing our lives."~K.B., Minnesota
"

I finally had the courage to mention to (my friend) that nothing major has happened to him since your session with him. I didn't want to jinx it but it's been the longest time since I've known him (15 years) that something bad hasn't happened to him."~2 1/2 weeks after a Space/Aura Clearing session with me.  🙂
BOOKING and PRICING

My space clearing work can be a part of a

Soul Session

or it can be a stand-alone session depending on how in-depth I must go. This can vary based on the number of people affected or living in the home.
Long-distance sessions are the same price as my

Soul Sessions

as seen below. If you would like Julie to travel to you to conduct the clearing, please call her at 512-931-4325 to discuss payment and scheduling.
Just click on the Book Appointment Now button below to schedule and pay for your session.  A half-hour session is just $99 and a 1-hour session is $180.
The majority of my sessions are conducted Monday thru Thursday in the daytime (Central time and availability is different each day), but I do offer some availability for weekday evening sessions as well.  You will need to email me at info@yoursoulspeakstome.com or call me at 512-931-4325 to schedule something outside my regular daytime hours.

After the session is scheduled, I will provide a teleconference line that both parties will call into at the scheduled time OR it can also be connected to via the computer.  I use Zoom teleconferencing which can be accessed both by those in the United States and those around the world.  The teleconference line allows me to record the conversation for your future use.  There is NO guarantee that the recording will work, although to date, all have.
Most importantly, the session is confidential and no specific information will be shared without your permission (unless there is a legal request to do so.)
Call me at 512-931-4325 or email at info@YourSoulSpeaksToMe.com if you have any questions. 
LEGAL and OTHER DISCLAIMER:
– Please be advised that psychic healing sessions cannot predict, forecast, diagnose or provide information with absolute certainty.
– No guarantees or assurances of any kind are given and Julie Bradshaw will not be held accountable for any interpretations or decisions made by recipients based on information provided during readings.
– No refunds given on any sessions for any reason after purchase.
– For medical concerns, please consult with a physician.
– For legal matters, please contact an attorney or law enforcement.
Save
Save
Save
Save
Save
Save
Save
Save
Save
Save