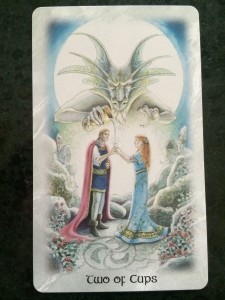 Option 1:  You have one BURNING question that you want answered.  It could be:
Should you make that big purchase?

What direction should you go with your:  career, relationship, etc.?

Why can't you get ahead?

Will the legal proceeding go your way?

Is your cat/dog happy?

What is the underlying emotional cause of your health condition?

Should you choose X or Y?
Option 2:  You have one BURNING question about LOVE you want answered.  It could be:
Is he/she THE ONE?

Should you have faith and stick with it or move on?


What do you need to know about your current relationship or future relationships?


Or anything else related to romantic love…..
If either of these options is you and you don't need a full Soul Session, then the Quickie is for you!!
For just $25, I will pull 3 tarot or Lover's Oracle cards for you and provide your answer and a picture of the cards I drew via email or FB messaging (your choice).  It's important to give me as much detail as you can when you send your question so that I have the full picture before I pull the cards.  (See below for Book Appointment Now button.)
This reading is done completely via email or FB messaging (if we're friends on Facebook.) 
This reading makes a GREAT GIFT!!  So buy one for yourself and one or two or twenty for others.   A Quickie can be immensely satisfying and bring tremendous pleasure.  😉
Testimonial
"For (physically or factually) – so to speak – not knowing anything about my situation , you sure do seem to know. Much gratitude and love."~Kim E., Cedar Park, TX



Click on Book Appointment Now and just select the first available time for scheduling.  Once paid, send me your question via email at info@yoursoulspeakstome.com (Subject:  Quickie Question) or via FB Messenger if we are FB friends.  I will get your cards pulled ASAP.
LEGAL and OTHER DISCLAIMER:
– Please be advised that psychic healing sessions cannot predict, forecast, diagnose or provide information with absolute certainty.
– No guarantees or assurances of any kind are given and Julie Bradshaw will not be held accountable for any interpretations or decisions made by recipients based on information provided during readings.
– No refunds given on any sessions for any reason after purchase.
– For medical concerns, please consult with a physician.
– For legal matters, please contact an attorney or law enforcement.
Save
Save
Save
Save